Practicing What We Preach
If you follow along with customedialabs' on-going adventures in transforming the digital marketplace, you probably know we recently celebrated our 15th anniversary with an epic gathering in New York City. But unless you were there, you probably don't know the extent of how we practiced what we preach. That is, from the initial email invite, to the guest check-in at the event, to the fully interactive evening, we created a dynamic ecosystem using our momencio platform that tracked, contacted, confirmed, greeted, and fully engaged our guests in fine style.
Time to Go Interstellar
We also developed a custom app that tied into our invitee list—but wait; I'm getting ahead of myself. Come read for yourself how insanely awesome, creatively captivating, yet perfectly practical was the self-contained world we created. And as you read, imagine your event or business on momencio.

We created our invitee database along with a compelling landing page highlighting features of the evening. Our 'going interstellar' theme carried over into our email blast. The beauty of the momencio platform for our clients is that, once a contact is made, you can track that contacts movement throughout the digital asset base that you set up for them. We did the same, so as people clicked through to the landing page, we were able to see who arrived in real time, how much time they spent on the page, and what features on the page they spent time with.
Our ecosystem for the evening included the guest database; our outreach emails; customedialabs.com; our landing page hub for the evening; an interactive touch screen table; a real time projection system to introduce guests and track all social media interaction; a momencio station with multiple iPads; a Twitter hashtag (#CML15th); a photo booth; and a whole lot of people ready to have a great time.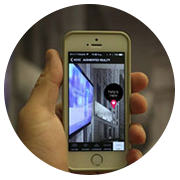 An App to Guide, Engage, and Entertain
Once RSVP'd, invitees were encouraged to download our custom app to their mobile phone. The app performed everything from guiding you to the venue location to socially interact with customedialabs teammates, to even writing an anniversary wish to be projected on the wall.
Upon checking in the night of the event, a custom badge was printed and scanned into the momencio platform via QR code. Guest's names were projected on the wall in real time, and after months of preparation, the real party had begun.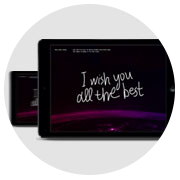 Selfies, Anniversary Wishes, and Celebration
Throughout the night, the app challenged guests to chronicle their evening by snapping and tweeting out selfies—which were projected on our interactive wall, again in real time, using our #CML15th hashtag. Adding an anniversary wish was as easy as writing it out on your mobile screen and submitting.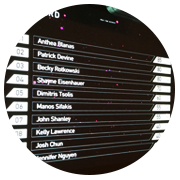 Gamification Leads to More Engagement
What really got people involved was a gamification layer via an on-going, real-time leaderboard, with prize incentives. The app tallied and tracked the scores of everyone in attendance, which was also projected on the wall every few minutes.
Our evening was a symbolic microcosm of what momencio could be doing for your business: educating, wowing, and impressing potential clients, all the while knowing exactly where they are, what they're looking at, for how long, and being able to reach out and communicate directly with them when they are involved and primed for contact.
Party-Proven Effective
Needless to say, the evening was one to remember—and in fact, we can remember it much better thanks to it being virtually alive today on the app itself. Then imagine harnessing the power of momencio for your business, whether event or sales focused. Oh, and make sure you're on the guest list for our next party.