There are a lot of options for a Content Management System so, as Head of Back-End Development, I am sometimes asked why we choose to architect with TYPO3. Because TYPO3 is an open source system, we are able to invent our own custom modules. At customedialabs we can develop, configure and create all possible additional modules that can be integrated on a TYPO3 website, for both the backend and the frontend. The following are five examples of TYPO3's features and enhancements we have created to benefit our clients.
1. Editorial Workspaces and Workflow
An editorial workspace is a section within a TYPO3 website where large groups are able to edit content without affecting the live website. We have developed and configured several variations of workspaces to suit the individual needs of our clients and these provide a few advantages.
We can create different groups of Editors and
Publishers. The Editors can suggest changes while the Publishers have exclusive
access to change the live website. This provides more control over the editing
process.
Back-end users can easily compare the live
version versus the workspace version of the site to allow for easy editing.
We can set up email notifications during the
editing process, so everyone is kept up to date with the changes and work, isn't
duplicated needlessly.
Client projects we used this on: Museum of Science and Industry, Modspace, LifeCell, TGaS
Advisors
The screenshot below shows the workspace on the left and the live site
on the right, making editing and comparing convenient.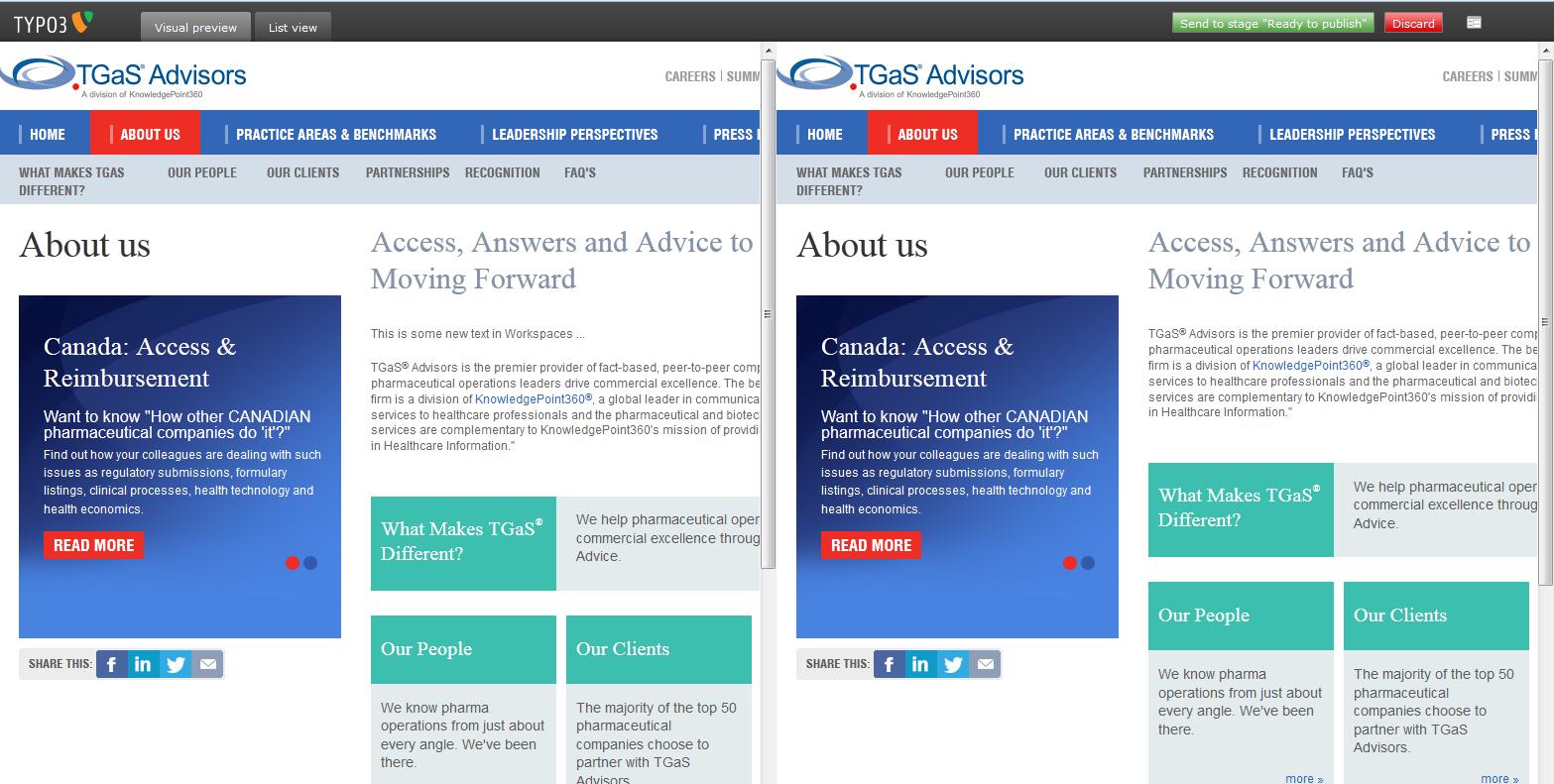 2. Advanced Front-End Editing
Although front-end editing is a feature on TYPO3, we have improved upon the existing model in the following ways:
We have customized the interface to make it more
user-friendly and to increase its functionality.
We have enhanced Drag and Drop features in order
to make edits directly on the page.
We configured all the templates to be compatible
on all browsers.
Client projects we used this on: Abdominal Wall
Reconstruction Center, TGaS Advisors
The following screenshot illustrates the Drag and Drop features.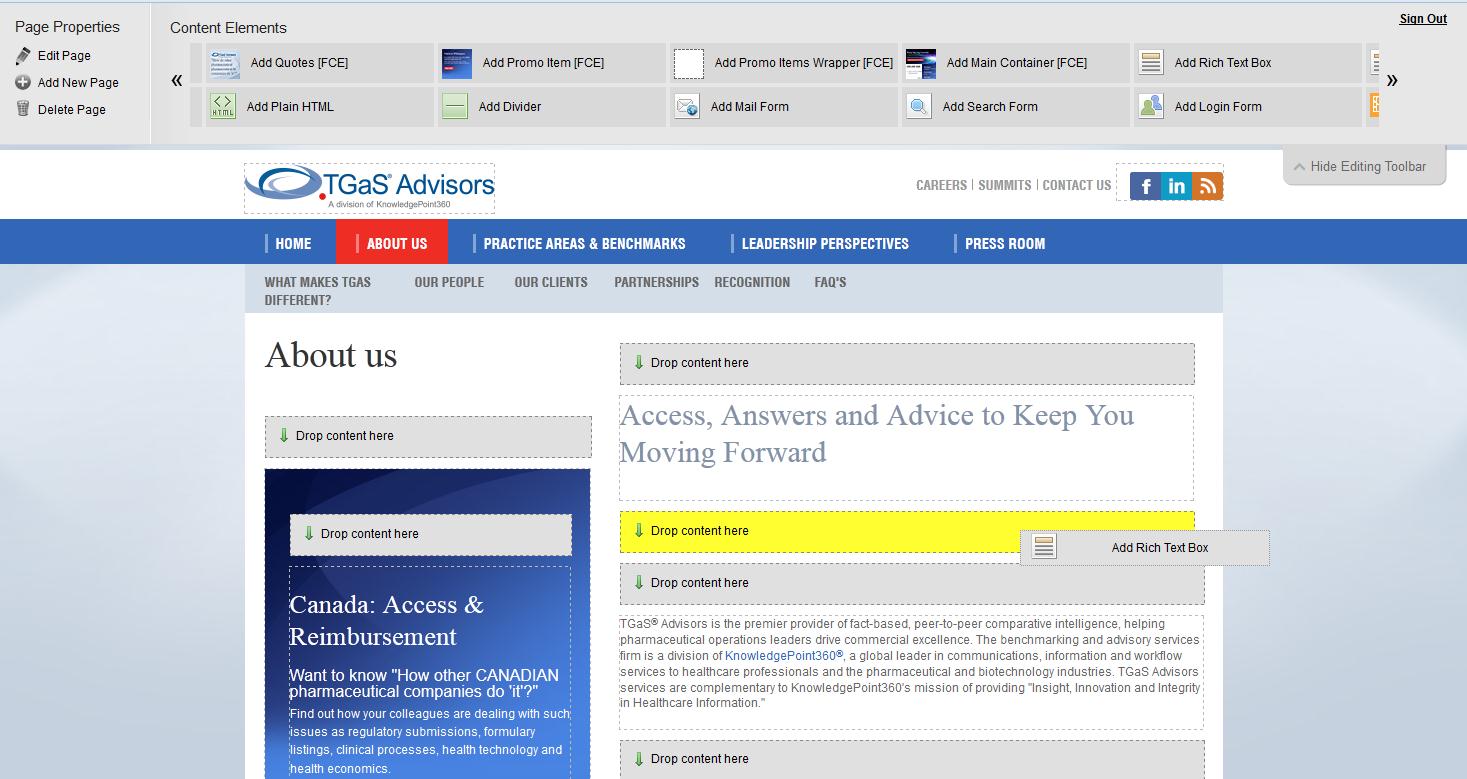 3. Multiple Website Installation & Translated Websites
With the increasingly international nature of business, the ability to run multiple websites in several languages with TYPO3 provides numerous benefits.
A TYPO3 installation configured to run multiple
websites can share the same templates and content which eliminates the need to
redevelop for different sites.
Because the sitemap is the same for every
website, uploading, managing and editing are streamlined.
Continuity is maintained across translated
versions on the website.
Client projects we used this on: Modspace in U.S. and Canada, LifeCell's EMEA in 9 countries/languages, Greek American Foundation web
properties
4. Mobile Detection Framework
TYPO3's mobile detection framework recognizes if a user is viewing the website on a mobile device and redirects them to the mobile site.
The content remains the same but is able to be
viewed in a mobile-friendly template.
Client projects we used this on: Modspace
5. Digital Assets Management
The Digital Assets Management is a component that we use on all of our TYPO3 installations. We have enhanced this component by integrating it with all of the custom extensions that we develop. Through this feature, assets such as photos, videos, and PDFs can be more easily managed than on the basic TYPO3 architecture.
We have integrated DAM on all of our extensions.
Users can easily update any asset's metadata by
simply clicking on the asset's icon from any record that is using the asset.
Image captions and alt titles are automatically
shown where ever the images are used.
I have found that the flexibility of TYPO3 allows for highly customized solutions which, in turn, benefit our clients much more than any other Content Management System that I have worked with. At customedialabs we are able to design and create custom modules that target the exact needs of our clients . . . there is no "one size fits all" model here.