TYPO3, (our all-time favorite) open source content management system is changing the game for nonprofits. With a strong open source architecture that encourages developers to tinker with the source code, TYPO3 can be customized by our development team to meet the needs of clients big and small. However, nonprofits, in particular, are taking advantage of one of the many capabilities of TYPO3 with its extensions feature.
By trading in third-party integrations and shoddy workarounds for customized extensions (designed by yours truly, of course), these carefully designed extensions are giving nonprofits unprecedented reach while keeping their focus on what's most important—fulfilling their missions. Here's how.
PAWS Chicago
Our long-time client, PAWS Chicago, Chicagoland's largest no-kill, humane pet shelter, wanted to replace a third-party pet adoption integration. The result? An easy-to-navigate extension for managing cats and dogs in the backend, where PAWS staff is able to filter pets by their name, pet ID, breed, gender, location, category, and status. Pets for adoption listings are updated on the website through the custom extension and users are able to filter pets by their location. PAWS Chicago can also add specific pet listings to any page on the website, define specific attributes for each pet, and add slideshows of images or video for every pet—increasing their chances of adoption.
With a team of 60 staff members assisting in the management of the website, TYPO3 allows for each individual user to be assigned a specific role. From Editors who have access to edit all content in the Staging Workspace and send it for review without the ability to publish content on the live site, to Pet Publishers, who can edit pet content and publish it on the live site, to Admins who have complete access to edit and publish all of the content on the site, every staff member plays an integral role in the management of the website.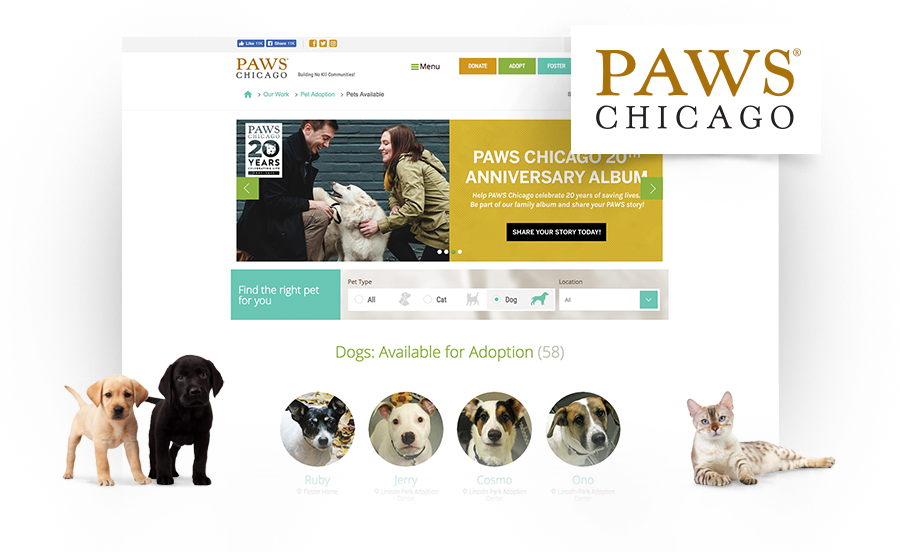 Visit Website
The Living Legacy Foundation of Maryland
The Living Legacy Foundation of Maryland facilitates donation and transplantation in area hospitals, provides donor family support, and educates hospitals and the general public about the life-saving power of organ, eye, and tissue donation. With a large number of people whose lives have been touched by The LLF, user-generated content was a natural progression in this organization's website.
Our talented team of developers created a custom Stories of Hope extension, which allows donor family members, living donors, and recipients to submit their story online, for review by a staff member at The LLF. The LLF communications staff members can then log in to the backend of TYPO3 to review and approve the story, and it will be pushed to the website in a templated format—saving staff time from copying and editing.
In addition to the story submission, the page has a filtering system so users can sort by the "connection to donation" drop-down menu, so as this organization compiles a library of stories, users can easily navigate to the stories that resonate most strongly with them. This is not only a way to highlight the stories of people impacted by donation but also serves as inspiration for those who are still making their own decision about organ, eye, and tissue donation.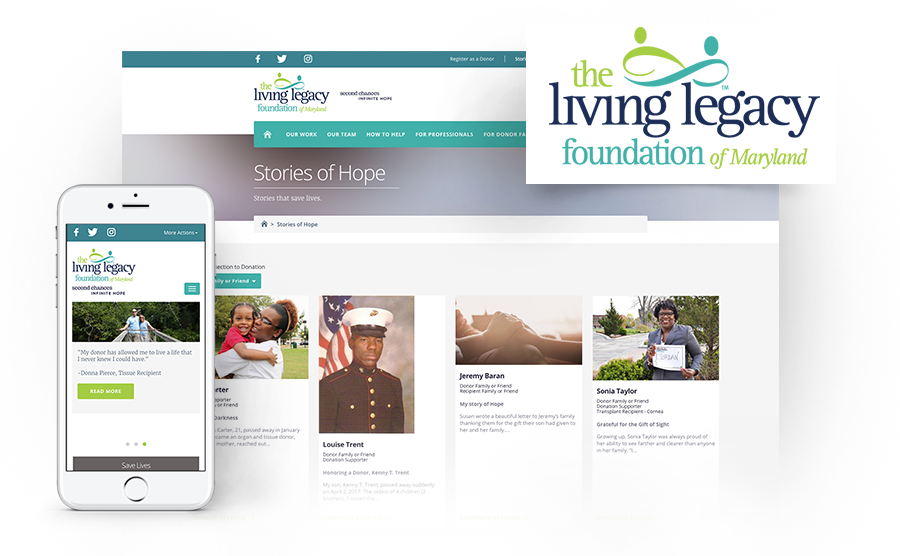 Does Your Organization Face Any Similar Content Challenges? Then Customized Extensions Can Help You, Too!
Thanks to the flexibility of the TYPO3 open source CMS the possibilities are truly endless. And with an easy-to-navigate system that enables real-time updates and user roles, TYPO3 makes for a great choice for nonprofits that are looking to transform and optimize their reach to fulfill their missions. How can we help you get started with TYPO3 today? Contact Us