The Greek America Foundation (GAF) is a non-profit organization founded in 1997 with a mission to "promote, preserve and perpetuate the Greek culture, history and heritage in America."
In the years since its founding, the GAF has evolved from simply a Greek heritage magazine to a vibrant, cultural community.  And Greek America has become more than a physical place, but a movement that lives in the hearts, minds, and souls of its members.
Challenge
The GAF's old logo, which depicted Greek and American flags, confined its organization to an outdated stereotype.  GAF wanted to enhance their brand and develop a new logo that would better represent the organization and its mission.
Our Process
To get started, our global team went through an extensive research process to gather information about the foundation.  Using this information, we created a strategy for a "21st century" GAF brand.
This new brand needed to:
Increase awareness about the GAF and its various endeavors;
Grow membership, support and donations for the GAF;
Create a modern image to properly represent the organization and its mission; and
Create a unified brand that is recognizable.
By the end of our discovery process, we clearly understood the brand's core attributes, personality and the positioning of the foundation. Our next step was to conduct a competitive analysis and explore other cultural foundations from around the world.  During this process, we learned that a culture could be defined as "the system of shared beliefs, values, customs, behaviors, and artifacts that the members of society use to cope with their world and with one another".  A culture is transmitted from generation to generation.
The key insight from our analysis was that the foundations' brands all visually communicated their roots, culture and ideals.  With this in mind, we began collecting core roots and visual connections for the Greek American Foundation. Spirit, heritage, unity, culture, ideals, and community were some of the principles that we explored.  We created a morphological box to get visual representations of those principles. This was really the starting point of the creative process.  Our creative team started to visually express all the core roots and ideas, tell a story with them, and create emotional connections.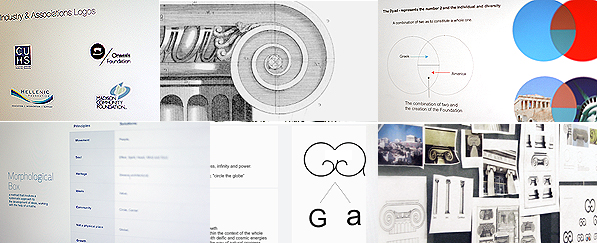 At this stage, we were concerned with the form of a logo and how it works to tell the brand's story.  We ended up most pleased with the first sketches and prototypes. During testing, we realized that the initial logos (with the representation of the "G" and "A" as an ionic rhythm colonial) were the strongest ones.  The simplicity of using the two letters made a strong, memorable and recognized logo mark.  It also told a symbolic story, with a clear and impactful message.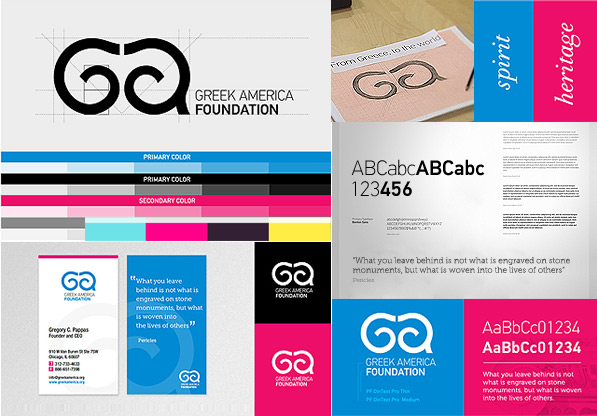 Furthermore, the ionic rhythm architecture created an emotional connection to the foundation's Greek roots, drawing people closer to the organization. We had created a powerful and classic logo that evoke pride in the foundation's members.
Brand is everything
Once the logo was in a final form, we moved forward with concepting the new brand identity.  We needed to continue our goal of creating a premium and contemporary look and feel for the GAF. The brand needed to communicate with modern people: people with fresh ideas, people that wanted to change the world, and people that wanted to feel proud of their history. It was an incredible combination of emotions. We came up with an impactful moodboard that paired the classic logo with a fresh, contemporary color palette to show a foundation that is both modern and powerful.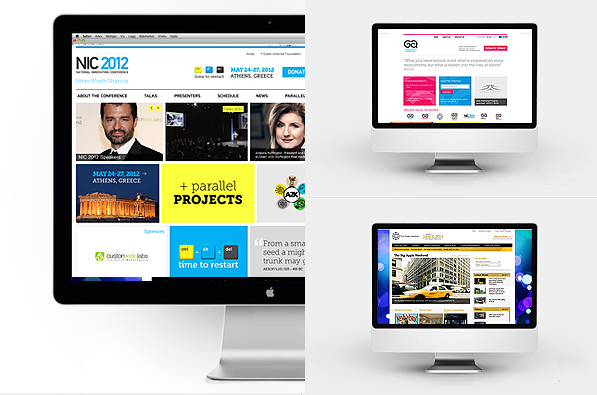 Another critical part of this project was maintaining the overall brand architecture of the foundation. There are many different sub-brands and movements (Greek America Magazine, Gabby Awards, Forty Under Forty, National Innovation Conference, etc.) under the GAF umbrella. A  pluralistic brand architecture will allow us to give each brand its own identity, while the master brand remains visually intact.  The unified brand style guide and architecture applies to every part of the GAF. This enabled us to build compelling relationships with a multicultural and diverse audience, throughout all of GAF's  channels.
Reflection
We had the amazing opportunity to attend the 2011 Gabby Awards, where our CEO, Manos Sifakis, first revealed the new brand to an audience of a thousand of Greek America's biggest and brightest stars.  The initial reaction was incredible.  The audience immediately connected with customedialabs' vision for the new brand and aligned with its mission.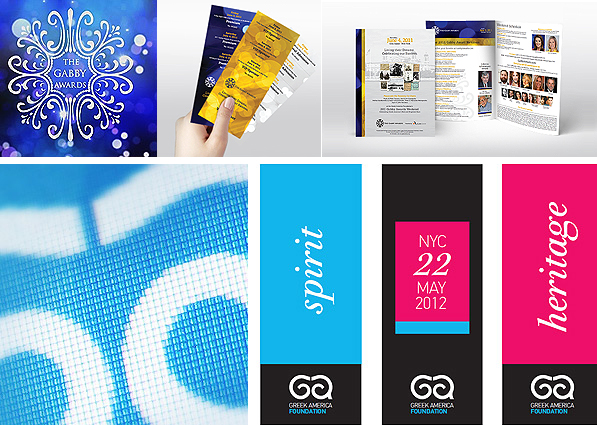 We are so proud and honored to have had the opportunity to envision and create a unique brand identity and architecture that visually aligned GAF with its mission and significance to its community.  As GAF embarks in a new chapter of its existence, we will continue to be the brand stewards further expanding on and expressing its brand promise.
John Magas
Creative Director, customedialabs