Let's start with an ugly truth: We can't convince all the traffic on our website to stay and this is why we sweat over bounce rate. Bounce rate is the percentage of users who enter a website but leave instantly without visiting a second page. Bounce rate reflects the quality of traffic visiting our webpages and if our content meets visitors' expectations. It is also a useful indicator of where problems might be occurring on the website.
How do we identify a bounce?
There are five typical signs:
1. Visitors click the browser back button
2. Visitors enter a new URL in the address bar
3. Visitors close the browser window or tab
4. Visitors stay inactive for more than 30 minutes and the session times out
5. Visitors click an outbound link
Here are some benchmark bounce rate averages for the most common kinds of websites:
20% – 45% for e-commerce and retail websites
25% – 55% for B2B websites
30% – 55% for lead generation websites
35% – 60% for non-ecommerce content websites
60% – 90% for landing pages
65% – 90% for dictionaries, portals, blogs and generally websites that revolve around news and events
Here are the most common types of webpages with reasonable high bounce rate numbers:
Blog posts have an expected 65% or much higher bounce rate numbers. Visitors usually leave after getting value from the relevant information in an article.
Contact us pages are a very common and accepted type of pages to have high bounce rate percentages because visitors access basic information such as phone, email or address.
Form submission pages always have high bounce rate numbers because the visitors' main purpose is to complete the submission process and leave immediately.
Confirmation pages are usually the last step when a visitor completes a goal and is ready to leave, so the bouncing is inevitably high.
Checkout pages are not a desired landing page and entry traffic to these pages is often low. So it is not a concern that the corresponding bounce rate will be high.
Customer support pages have often high bounce rate figures on quality support websites. This is usually a positive signal because visitors answered their questions and don't need to call customer support.
How do we distinguish a good from a bad bounce rate?
Did you know that a high bounce rate isn't always bad and a low bounce rate isn't always positive? Not all bounces are the same! It is difficult to know how to accurately interpret the percentages and avoid common analysis mistakes.
The more popular a website gets, the more diverse received traffic it has and the more likely visitors will bounce. Hard bouncers are those who left immediately as soon as they arrived on a website because they knew that they were in the wrong place. On the other hand, a high bounce rate is desirable when visitors have a satisfying experience.
One of the most common scenarios is when we see a high bounce rate on a portal's homepage and rush to the judgment that it has a poor performance or low quality content. Actually, nothing needs improvement because visitors tend to consume information and then leave on a news related website. Another great example of an acceptable high bounce rate is the amount of clicks on outbound links. When visitors enter a website and click on an external link inside the page, this can be considered a bounce but it is a positive interaction if this link redirects to a partner website.
According to many Google Analytics experts, bounce rate percentage over 35% is a cause for concern and anything above 50% is worrying but suspend the judgment until you evaluate some crucial factors, such as the brand's credibility, the type of website, the type and the placement of webpage in the site, visitors' intention and the level of their life cycle.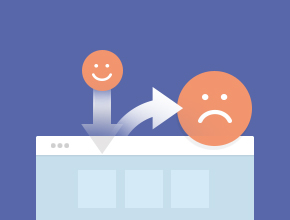 What about bounce rate on smaller devices?
Desktop visitors bounce 42% of the time on average. Mobile users are more likely to bounce across the board so we have to expect mobile bounce rate figures to be up to 16% higher than desktop figures. The distinction between mobile and desktop bounce rate percentages can be even more conspicuous in lead generation websites because of the required completion of big forms on a webpage. The expected bounce rate for tablets is up to 12% higher than desktop bounce rate numbers. A much higher percentage for mobile and tablet devices may indicate that the website is not optimized for smaller screens.
What is the best way to expound bounce rate metrics?
Segmentation and proper analysis are the keys to success! Keeping in mind that visitors' expectations vary on many factors, the segmentation of the provided data is a very smart tactic. Here are the best segmentation choices to consider and evaluate a website's performance:
1. Returning Visitors: someone who returns on a website has always a different purpose than does a new user. It is common that returning visitors have a lower bounce rate percentage since they are more familiar with the website's content.
2. Mobile and Tablet Visitors: A tablet user or a mobile user tend to bounce more. Usually, mobile users are searching for specific info on a webpage, like an address, a specific product or an answer to a question. Moreover, bounce rates are much higher on websites that are not responsive and offer a poor mobile user experience.
3. Geo location: you should expect a high bounce rate from outside of your local area if you are a local business which not serving there. You need to segment precious local visitors in order to understand how they are performing as a union within your target area.
4. Source / Medium: two very important factors for the evaluation of your website's performance are the origin of your traffic and the category of the source, such as organic search, paid search or referral. Visitors enter your website through a variety of sources with different intents and substantially different bounce rates.